17 PHOTOS & ONE CLIPPING IN THIS SECTION BY REGINALD H. "SMOKEY" RHYMES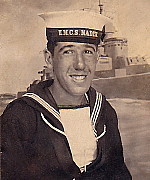 Many thanks to Smokey's son, Gordon P. Rhymes, for these photos of his father. Originally from Burgeo NL, he enlisted in the Canadian Army in Halifax, in March, 1945 and served until May 15, 1946. Joining the RCN at the end of April, 1947, he served 25 years, retiring at the end of April, 1972. He passed away in 2006.
He served on HMCS Athabaskan, Cap de la Madelaine, Crescent, Haida, Huron, Lanark, Nootka, Penetang, Prestonian, Quebec, Saguenay, & Swansea, and was stationed in HMCS Cornwallis from 1959 to 1961. There is little information accompanying these photos, and few people other than Smokey are identified, but some locations have been determined by the dates in his service records. Section revised May 27, 2021.
---