184 PHOTOS, A NEWSLETTER & TWO BOOKLETS IN THIS SECTION BY KEN JOHNSON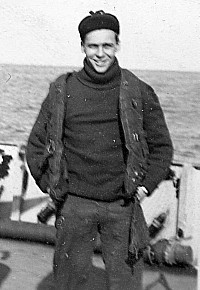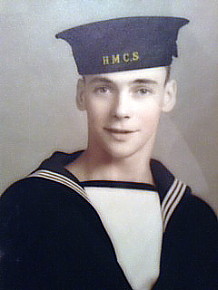 In November, 2013 I received an email from Ken Johnson, which said in part: "My father (Kenneth Anthony Johnson) sailed on the HMCS Ontario. He had a lot of photos taken on their first voyage. Would these be of any interest? I also have a full size photo of the whole crew on the ship." To make a long story short, Ken mailed me the whole collection of photos and I scanned them at very high resolution. Fortunately they are almost all official RCN photographs, so were taken with good quality lenses. Even though the prints are small, the scans produced sharp images.
Except for ten postcards of HMCS Cornwallis which Ken Sr., mailed home in letters while he was there, the collection records the voyage of the newly-built HMCS Ontario from the Clyde on July 2nd, 1945, through various ports in the Mediterranean, through the Suez Canal, to Colombo, Ceylon, until her arrival in Hong Kong on Sept. 12, where her crew participated in the Japanese surrender on Sept. 16. She stayed in Hong Kong until November 1st, when she left for home via Manilla and Pearl Harbour, arriving in Esquimalt on November 27, 1945.
From an undated Christmas card owned by Ken Johnson, Jr., it would seem that before Ken Sr. was on HMCS Ontario, he was a crewmember of HMCS Springhill, a River Class frigate.
Special thanks is given to Tony Banham for identifying the many Hong Kong photos. Tony is the author of three books on the war in Hong Kong, with a fourth (and probably several more) being researched. Please see his fascinating website Hong Kong War Diary. Because of his information, I've been able to re-group many of the photos into several Hong Kong sections.
December 17, 2014 : Thanks also to Gehan Pinto, who had the now vanished Old Ceylon history page on Facebook. He kindly sent me modern versions of many of the Ceylon photos and also helped me sort out those taken in Egypt. (This Canadian didn't know date palms don't grow in Sri Lanka).
March, 2015 : Thanks also to Russell Hodgkin. He clued me in to the fact that the negative numbers of the official photos are in order of occurrence, so arranging them in negative number order would show the progression of the voyage from start to finish. This insight also enabled us to identify many previously unknown locations.
November, 2015 : Thanks also to Alfred Lai, a Hong Kong-born Canadian who is an officer serving in the Canadian Army. He corrected previous descriptions of many of the Hong Kong photos and added new information to others.
March, 2016 : Thanks again to Russell Hodgkin. who found a list of the photographs in his father's papers. There is a big gap in the list, but it allowed me to put dates on most of the photos, as well as add names of some people and ships.
February, 2017 : These photos plus others in the series which are missing from this collection can be found in the HMCS Ontario section on the "For Posterity's Sake" website.
April 14, 2022 : Ken Johnson found a very fragile copy of a program for the musical production "Meet The Navy", in his father's files, and the pages are reproduced in the last item in this section.
People identified so far: H. Agnew, Charlie Conway, Major-General F.W. Festing, Admiral Sir Bruce Fraser, Capt. Harold Taylor Wood Grant, Ken Johnson, Lt-Col. Leathes, Ernest Harold Massick.
Ships Shown: HMS Bleasdale, HMCS Haida, HMCS Matane, HMCS Ontario, HMCS Prince Robert, RMS Queen Mary, HMS Truncheon. Also shown is a King George the 5th Class battleship, either HMS Anson or HMS Duke of York. Section revised April 14, 2022.
---